This article was orginally published at Big Blue Bullfrog on October 3, 2012.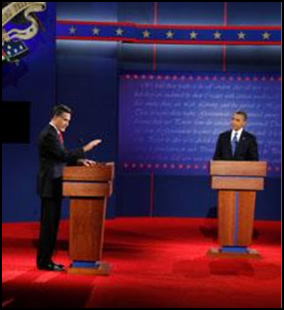 Yesterday was the final day of the regular season in Major League baseball, and what a regular season it was. Miguel Cabrera of the Detroit Tigers won the triple crown (finished first in home runs, RBIs, and batting average) a feat accomplished for the first time in my lifetime, the Oakland A's won their division on the final day, the Washington Nationals became the first team from DC to make the postseason in merely 80 years, and the Baltimore Orioles made the playoffs for the first time in 15 years. But the baseball regular season wasn't the only thing that ended last night.
With the first presidential debate last night in Denver, the fog of deception that was fabricated to make Mitt Romney look like he is an unacceptable choice for the highest office in the land has been permanently dispensed. In fact, some of the more enjoyable moments of the debate were those when President Obama appeared absolutely lost because Mitt Romney refused to accept the caricature of his positions created by the left. But Mitt Romney is not a caricature and his legitimacy shone brightly in contrast with the president last night in this debate which focused exclusively on domestic policy.
Without the filter of campaign commercials or slanted media analysis, the candidates were presented bare (without teleprompters) and had to rely on their own knowledge and wits. In this setting, it was clear who had command of the issues of the day and that was the challenger. A long running CNN poll, which has been taken after every Presidential debate since 1980 had Romney winning by an astonishing 67% to 25%, shattering all previous margins.
A lot of the initial analysis of the debate claimed that Romney won because he was more "aggressive" and one analyst actually said Romney got the edge in time using a football analogy. Actually, President Obama clocked in with nearly five more minutes than Governor Romney and it only felt like Romney spoke longer because his words had so much more substance than Obama's well used platitudes and stereotyped preconceptions.
There are still two presidential debates remaining this month along with one vice presidential debate, so this race is far from over with 33 days until the election. However, anyone who paid close attention last night has got to like Romney's chances at this point.
~