Imaginary Lines is a studio project of rock songs produced by Ric Albano between 2004 and 2009. It culminated with the release of the triple-length
Imaginary Lines 33 on September 9, 2009. The music has been described as progressive rock or vintage rock with many strains of sub-genres ranging from jazz to folk to Americana.
Originally, Imaginary Lines was to be a trilogy of "concept" albums, set up in a circular, infinite loop. The first two issues of this were released in 2005 and 2007 respectively. However, practicality ruled and Albano ultimately decided to release everything on a two-CD set of 33 total tracks.
The bulk of the recordings were made at Saturation Acres in Danville, starting on April 7, 2005, and included Cellarbirds' Bret Alexander on guitars and Ron Simasek on drums. After drums, guitars, and bass were recorded at Saturation Acres, Albano added keyboards and vocals at his home Cygnus Wave studio along with all initial mixing and mastering.
The orginal material stemmed from a 14-song 2004 demo, seven (or half) of which were included in on the intial album Imaginary Lines I along with two new tracks written in early 2005. Over half the songs on this first album were longer than five minutes in length and all were constructed with unique arrangements, chord patterns, and instrumentation. The ultimate goal being to compose something of longevity, with new discoveries on every listen, and which might still sound fresh five or ten or twenty years down the line.

The next album, Imaginary Lines II consisted of more traditional, shorter, and simpler rock songs. However, there were many production delays and by the time this follow-up was released in late 2007, Albano had already decided to abandon the trilogy idea, remix much of Imaginary Lines II, and develop a dozen more songs to complete the 33 song collection.
The significance of the number '33' has a bit of history, as it was in the title of songs on each of the Two original albums – "33 Flames for Mary" and "33 Shots at Louis", and a third "33″ song ("33 Visions of Time") was considered for the defunct third album. Ultimately, Ric Albano would name the company he founded in March 2009, 33 Dimensions.
With the release of Imaginary Lines 33, the project has come to it's completion. Being that there are no immediate plans to perform live shows, the name "Imaginary Lines" is effectively retired.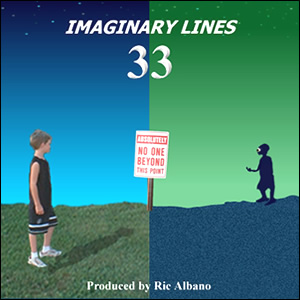 Compact Disc (2 Disc Set)
Available at CD Baby
($9.99 for One, 10% Discount for Multiple)
Buy Now!
Digital mp3s Now Available at
Amazon.com or iTunes
Listen Online
An absolutely free way to take this music for a test drive!
Listen at CygnusWave.com