My eldest son Dylan started playing football at the age of six. That year he was the youngest and smallest kid on the team, which meant he naturally got the least playing time. I volunteered to be part of the chain crew for home games and would often be on the same sideline with Dylan as he rode the bench in boredom. He soon developed a way to entertain himself. Emboldened by his full football gear, he would charge after me full speed and try to knock me down. He would even get sneaky and covert, coming at me when I'd least expect it or when my back was to him. Still, the little six-year-old was never able to succeed in his mission.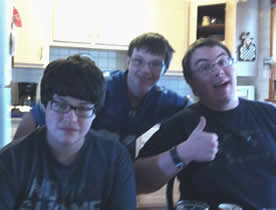 Later that same year (1997), Dylan's twin brothers Jake and Bryen were born. Through all the following years of football, wrestling, slap-boxing, and Ricky-ball (don't ask!) these boys would also try to knock me off my feet, to which I would reply; "You kids have been trying to knock me down since your oldest brother was six years old, and no one has ever succeeded." I must admit there were some very close calls where I stumbled and nearly lost my balance, but there was no clear-cut "knockdown".
Until this morning, that is.
My now 15-year-old son Jake had gathered together a pile of old video games to re-sell to Game Stop, which I then grabbed and jokingly told him I was going to throw in the pool. He moved to block me from getting out the door and half-heatedly swiped at me as I kept the video games out his reach. Then I started to "trash talk" saying something like "you know I can get past year you whenever I want". To this, Jake calmly lowered his shoulder, wrapped his arms around me and "pile-drived" me right into the couch.
Now in my defense, Jake is not built like your typical 15-year-old. At a doctor's visit a week and a half ago he measured in at 6′ 3″ and 242 lbs (and that was a week and a half ago, he may have grown since then!) But the fact remains, although it took 15 and a half years, I can no longer brag about none of my boys being able to knock me down.
Keep chasing your dreams kids, anything is possible!